by: Jake Ring
On Thursday night, the Toronto Raptors won the NBA championship. And as Kawhi Leonard hoisted the Larry O'Brien trophy, I got an eerie feeling in my stomach. Every year this time of year comes and every year it hits us sports fans right in the gut. I'm talking about Seasonal Sports Depression. This time period comes from the end of basketball (or hockey) to the beginning of football. And is also called the "Dead Zone of Sports."
Unless you are a die-hard baseball, NASCAR, or golf fan, you are not fond of these summer months. Baseball sucks unless you are actually at the game or if its October. Golf sucks unless Tiger is contending (side note: golf is perfect for napping on Sundays, I will give it that). And NASCAR sucks unless you are piss drunk.

No more, "Hey, wanna catch the game at the bar?" Or, "come over for the game, I'm making buffalo chicken dip." There is absolutely nothing to talk about with your co-workers at the water cooler. Bar and restaurants play HGTV on their TVs. When you are trying to get drunk with your friends, you end up drinking more because there is nothing on TV. It's bad for everyone.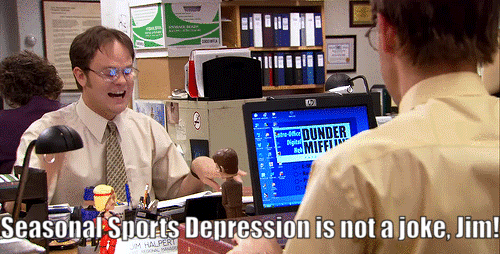 Unless you have a girlfriend and/or a wife. This is their favorite time of the year. Because now, you have no excuse to get out of doing things with her. When she says, "My cousins-wives-sons gender reveal party is this weekend, we're going." You can't answer with, "Nah, I can't the [insert favorite teams name here] are playing" You have to suck it up and go with her because you literally have no excuse. And when you have to go to her dads-cousins-sons-cousins random party, it would be bearable to be at if there is a game on.

The first sight of sports is not for another 83 days when the Chicago Bears play the Green Bay Packers. And don't be that guy that says, "I watch every NFL preseason game." Bullshit, buddy. Preseason games are less entertaining than the AAF games, and that says A LOT.

Luckily this year, we get to watch the USWNT kick the shit out of the rest of the world in soccer. They are always fun to watch. (side note: They should get paid the same amount as the men, by the way, the men didn't even make the World Cup last year. Fucking losers)

Good Luck on your 80+ days of no major sports

GodSpeed
Things to keep you from scraping your eyes out from boredom with no sports. In order from best to worst:

1. Follow NBA free agency
2. Follow the NBA draft
3. Watch Hard Knocks with the Oakland Raiders
4. Watch the NBA Summer League
5. Watch the Fortnite World Cup Championship
6. Watch the Women's World Cup
7. Read my blog crewnecksandsnapbacks.com/blog
8. Watch the Big3 basketball tournament
9. Follow my twitter https://twitter.com/CrewNecksSnapb1
10. Drink a lot of alcohol
11. Don't watch the WNBA
12. Become a stoner
13. Swim
14. Play with your dog
15. Cry
16. Work overtime hours
17. Watch paint dry
18. Give me money here
19. Arts and crafts
20.
21. Hang out with your significant other